'THE CHITWAN COLLABORATION' OF NEPAL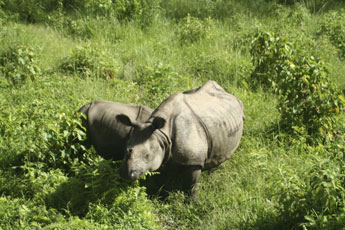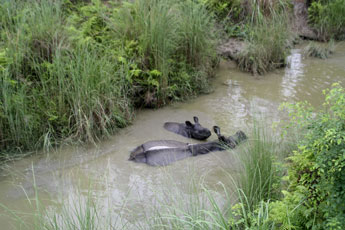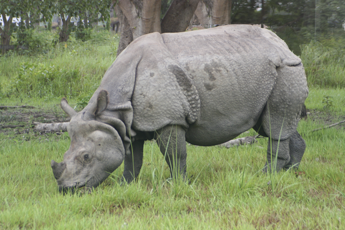 In 2007 Andy Mydellton first visited Nepal and set up 'The Chitwan Collaboration'. It is a network of wildlife and environmental groups working towards shared goals. One project site is the Mrigakunja Bufferzone in the Chitwan Nature Park, another being in the Siti Devi Community Forest, also in the Chitwan district. In the Chitwan Collaboration FES is partnering Nepalese organizations to protect and promote the tiger and one horned rhino. The tiger and rhino are flagship species that suffer badly in the illegal world of poaching and trafficking. So it is important to have the local communities become their guardians and custodians. In the past tigers and rhinos have had feeble support although things have begun to change with the new government. However both flagship species also lack enough quality habitat to survive and thrive. The Collaboration's plans include surveying, monitoring and tracking animals. We will also be creating Tiger Swamps, Rhino Watering Holes and Observation Towers. This will also help indicator species and biodiversity in general..
Moreover, FES work in Nepal will help local people support, work and engage with wildlife. Sustainability is a major change of mind-set: especially as many local people living close to national parks were often threatened by wild animals that challenged their interests. FES enforces UNESCO's policy of Sustainable Development, and the Earth Charter International's policy of Ecological Integrity. FES works with schools, so that children will grow up with these values as part of their lives.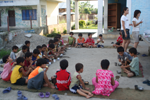 The United Nations has declared that Nepal is a nation in need of international help, especially after the civil war. As the UK is their closest friend and ally, FES believes that it was only right for a British organization to become an international representative of Nepalese interests with the Chitwan Collaboration. With just a relative small amount of western money and help, the Chitwan Collaboration will achieve a huge amount of conservation and wildlife success. Many local people are also learning to respect their nearby forests so that they can harvest trees in a programme of Sustainable Living. It means that the core of the forest and habitat is always unharmed. So by engaging the interests of people who live with rare, dangerous and exotic animals, wildlife will benefit in the long term. Nepal needs to alleviate poverty as animal habitats cannot survive in isolation, devoid of human beings. Sustainable Development is about learning to accommodate nature into human needs and desires.
This plan reverses the past policy of deforestation, protects what is left, helps replant the forest glades and increases the quality of wildlife habitat. Our hope is that more animals will eventually live in these areas than ever before.
In the longer term, this collaboration will fit into the much larger 'Terai Arc Corridor' that will stretch from the Chitwan District to Bardia and Sukla Phanta Nature Parks of Nepal; and then continuing on into India and the Jim Corbett Nature Park. However FES is all too aware that this corridor will need a huge amount of work to become a reality. In the Terai Arc Corridor project, all of the animals protected in 'The Chitwan Collaboration' areas will become Source Species. This is where certain animals will link up with other colonies from other protected areas.
The Nepalese embassy has recognized FES work in Nepal. Furthermore, Mr Jabhindra Aryal has formally visited the Foundation's Photographic Exhibitions including 'The Land of the Tiger' and 'Himrain'. Since then Mr Chalise, the new ambassador visited the 2010 FES 'International Year of Biodiversity' exhibition.
The major points outlined on this page have been translated into Nepalese and this is available to download in document form here -->>