Advisory Business
THE EARTH CHARTER INTERNATIONAL

Being the international FES representative, Andy Mydellton endorsed the Earth Charter and was also the delegate to the Earth Charter + 5 Conference in Amsterdam in November 2005. As a result of that conference, FES and the Wildlife Zone built its programmes and media activities on many of the relevant Earth Charter principles.
FES REPRESENTING THE UK
FES REPRESENTING THE UK There were only three UK delegates at the conference, and FES was the only UK conservationist Non Government Organization (NGO) represented, which firmly indicated that FES gave a unique perspective to the conference.
During the three day presentations, talks and discussions, Tiahoga Ruge Scheffer, from the Ministry of Environment and Natural Resources of Mexico, said: "NGOs [such as FES] are very important for frontline action at grassroots level, especially because of their experiences and expertise. They are more permanent than governments, which change so often."
Later, Ruud Lubbers, the three-time Prime Minister of Holland and Earth Charter International founder, said to Andy Mydellton, "The Earth Charter is forging ahead in new areas ... it is important that you make new alliances in your specific area. Now that you have endorsed the Earth Charter Initiative it is better for us that you become activists and enforcers in your field of expertise rather than be general.This included raising awareness and public education of conservation issues for FES and Wildlife Zone.
MAKING CHANGE THROUGH EDUCATION
The Foundation for Endangered Species offers transformative education creating long term changes which lead to sustainable living mind-sets. We continue to use the Earth Charter as a framework for our educational activities, especially through the media. This included raising awareness of conservation issues to be published by the Wildlife Zone.
FES also facilitates the Decade of Education for Sustainable Development (UNDESD) and post UNDESD projects. Changing mind-sets is ultimately the way to solve so many environmental and wildlife problems. The Earth Charter has defined sustainability as "environmental practices that value and sustain biodiversity and life-supporting ecological processes" where society, the environment and the economy are interconnected. www.earthcharter.org. This includes raising awareness and informal education for the general public, especially through photographic exhibitions, magazine feature articles, and other material whenever it is appropriate. The Wildlife Zone is to be the main publishing arm for FES. This included raising awareness and informal education of the public for conservation and environmental issues. The Wildlife Zone has since published things on behalf of FES.
United Nations Decade of Education for Sustainable Development or UNDESD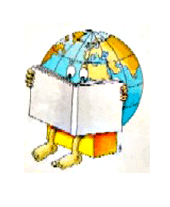 In 2002 UNESCO declared that UNDESD should start in 2005 and that Earth Charter International would be the enforcer. FES has facilitated and enhanced the UNDESD initiative since December 2005. FES main interests have been to raise public awareness of UNDESD and its overall aims. However, working within the UNESCO UK ASPnet since 2007 FES has also taken on a more formal educational role.
Since the project has founded, FES continues with the general principles of UNDESD.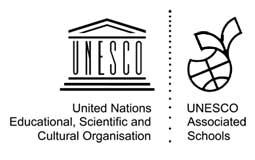 FES is a member of United Nations Educational, Scientific and Cultural Organisation Associated Schools Project Network (UNESCO ASPnet) and advises the UK Group on environmental matters. Andy Mydellton is the Chairman and 'Environment Advisor' for ASPnet.
UNESCO ASPnet is a global network of more than 9,000 pre-schools, primary, secondary and vocational schools across 180 countries, and is about changing hearts and minds.
The network is built on 4 pillars of learning that are high-level objectives around which a school could build its approach to global citizenship:
* Learning to know
* Learning to do
* Learning to be
* Learning to live together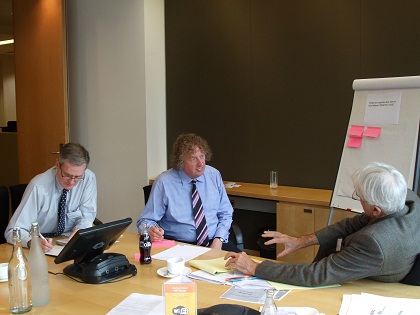 WORKING IN THE OLD EDUCATION COMMITTEE
Because he was a college lecturer, Andy has given lessons, presentations, and has taken meetings and assemblies in schools. He has also made a number of photographic exhibitions on behalf of UNESCO in schools, libraries and Liverpool Cathedral.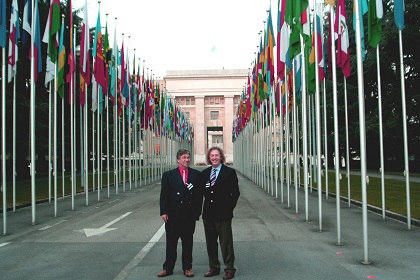 THE AVENUE OF FLAGS IN GENEVA
FES members have taken part in a UNESCO subject led seminars at the United Nations Palace in Geneva. FES also took part in other meetings which furthered the charity's projects at the International Union for Conservation and Nature (IUCN) and the UN Environmental Programme (UNEP).
Since then Andy Mydellton has taken part in another seminar at the UN General Assembly in New York and paid a diplomatic visit to the nearby American UNESCO offices.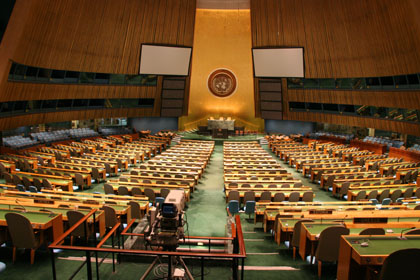 UNITED NATIONS NEW YORK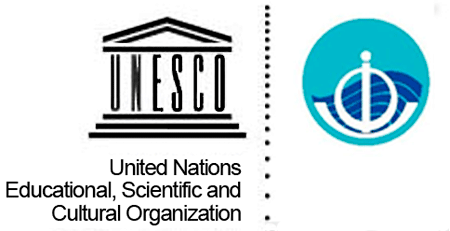 INTERGOVERNMENTAL OCEANOGRAPHIC COMMISSION (IOC)
The IOC is the United Nations body for ocean science, ocean observatories as well as for ocean data and information exchange. Its mission is to promote international cooperation and to coordinate programmes in research, services and capacity building to learn more about the nature and resources of the oceans and coastal areas. They will apply this knowledge to improved management, sustainable development and protection of the marine environment and the decision making processes.
Its main activities include;
the prevention and reduction of the impacts of marine hazards
safeguarding the health of ocean ecosystems
the mitigation of impacts and adaptation to Climate Change and variability
the management procedures and policies leading to the sustainability of coastal and ocean environment and resources
FES and the Wildlife Zone are members of the IOC because they monitor man-made problems which affect the oceans such as Climate Change, Global Warming and Pollution which leads to the acidification of the oceans. Habitat pollution could destroy eco-systems and food chains which could lead to another 'mass extinction of the species'.
The link for the IOC is - http://www.unesco.org/new/en/natural-sciences/ioc-oceans/about-us/.
Andy Mydellton is an 'Ocean Expert' with the IOC and can be traced with this link:- http://www.ioc-unesco.org/index.php?option=com_oe&task=search&orderby=name&field=expert&searchText=andy+mydellton. Otherwise go onto the IOC site and type in 'Andy Mydellton'
UK GROUPS
ALL PARTY PARLIAMENTARY CLIMATE CHANGE GROUP (APPCCG)
"The APPCCG's aim is to deliver material and meaningful progress on climate change by creating an arena in which interested and relevant parties are able to discuss and formulate policy options and promote those that offer the greatest promise. The APPCCG works closely with businesses and civil society to integrate scientific, business and government approaches to tackling climate change.
The APPCCG focuses on the practical application of climate change strategies and on institutional mechanisms, frameworks, and policies that will help us combat and cope with climate change. It hosts regular discussions and seminars in the Houses of Parliament, covering all aspects of climate change and related policy issues: from climate science and sustainable development to carbon finance and green investment."
FES and the Wildlife Zone have mutual interests with the APPCCG and joined them some years ago after taking part in some seminars at the European Parliament. The subject of climate change and other inter-related issues undermine wildlife's interests globally and in the UK. At Westminster FES and the Wildlife Zone aim to continue making an impact and valuable influences in government circles.
However because of ill health FES has temporarily suspended its activities and up to date information appears in the Wildlife Zone Newsletter.
PARTNERSHIP FOR ACTION AGAINST WILDLIFE CRIME (PAW)
https://www.gov.uk/government/groups/partnership-for-action-against-wildlife-crime
The universal mission of PAW is to be:-
Promoting, supporting and contributing to efforts to enforce wildlife legislation;
Co-operating with the statutory enforcement authorities by providing advice and information, and by assisting with any other enquires as appropriate;
Being aware of the legislative controls relating to their activities and complying with them at all times.
PAW UK's objectives are:-
To facilitate effective enforcement to ensure that wildlife crime is tackled professionally;
To influence the improvement of wildlife enforcement legislation;
To raise awareness of wildlife legislation and the implications of wildlife crime.
FES has been a member of PAW for over a decade because it supports wildlife law enforcement both in the UK and worldwide. FES' policy is that our protective laws must be actively enforced, otherwise they become notional and a wasted opportunity of conservationism. Enforcement is necessary is because some people will always steal things which are valuable, and our natural heritage and wildlife is no exception.
Wildlife crime includes egg theft of rare birds, poaching, illegal hunting, persecution, the ivory trade and the trafficking of live animals as well as body parts of corpses. Global wildlife crime totals billions of pounds every year and is only behind gun running and drug smuggling. One horrible example is that, perversely, when an animal becomes closer to extinction, its price increases due to its rarity; poachers then hunt them with increasing ferocity for even greater financial gain.
FES has given presentations to PAW at their Open Days, and has set up displays in the foyer to raise awareness of mutual aims. FES also distributes police and PAW leaflets, brochures and bric-a-brac.