Projects
We have a number of ongoing projects which you can access by clicking on the heading.
Re-introducing Indigenous Wildlife
Reintroducing Indigenous Species
Past generations have already driven many indigenous British animals into extinction, so to reverse this dreadful situation FES supports reintroduction programmes whenever appropriate. Present avian reintroduction programmes include the White Tailed or Sea Eagle, and the Crane: mammals include the Beaver, Lynx, Wolf and European Bison.
FES supports these reintroduction plans and programmes because they follow the European Union's Directive 92/43/EEC Conservation of Natural Habitats and Wild Flora and Fauna (the Habitats and Species Directive) Article 22. With this legislation, as stated in Annex IV, the UK government must consider the reintroduction of extinct native species, whenever it is appropriate. Furthermore the 1992 Rio Earth Summit, a declaration which the British government signed, gave us our present orientation. Moreover;
As subscribers to the European Habitats Directive the British government are internationally required to "study the desirability of reintroducing [threatened] species" that have become extinct from our region.
But to get all of Britain's indigenous animals living in the countryside once more, the British public must want to live inside nature, rather than being disengaged or frightened by it. This is why FES raises awareness of these reintroduction programmes and helps keep the issue at the top of the public's conservationist agenda.
In many cases FES needs to explain the realities of these animals, as they often have 'a bad press' which suits their enemies. As a result they must endure a bad reputation which is usually untrue.
The White Tailed Eagle
FES has been supporting the reintroduction programmes of the White Tailed or Sea Eagle, for many years. The main focus is the latest action plan to establish an English colony on the Isle of Wight, at the opposite end of the mainland of the two Scottish populations that have already been formed. After a couple of years of releases, the eagles have been fitted with radio transmitters, so that conservationists are able to keep monitoring them at all times. So far we have found that some eagles are already establishing the base for a local breeding population. We also know that some had travelled the country from the Isle of Wight to the Scottish coast, with one pair returning south, flying over the English countryside. FES hopes that these patterns of behaviour could provide the base for the eagles to increase their geographical areas throughout the mainland in years to come, even within the presently measured five year plan. FES monitored the Scottish West coast population in 2018, as part of the charity's 'Scotland Expeditions' including seeing a pair of 'flying barn doors' on the Isle of Skye. We did so just after visiting the coastal hills overlooking the Isle of Soay, once owned by the author Gavin Maxwell who tried to establish a shark fishing industry there in which he wrote about his autobiographical book Harpoon at a Venture in the post war years. Since then eagle release projects began on nearby Mull and people can catch a glimpse of these magnificent birds in these skies.(The full article in the series 'Andy's Postcards' will later be published as part of the Chronicles of a Conservationist).
The Twaite Shad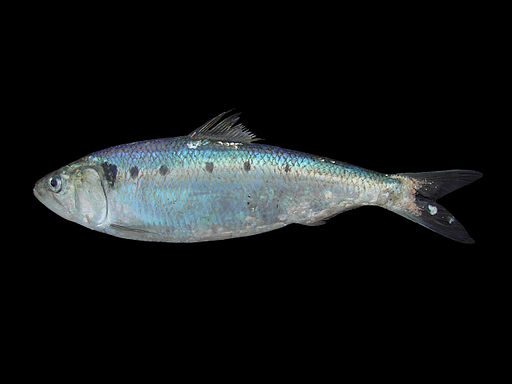 Twaite Shad
Credit: wikimedia-Twaite Shad
The rare British fish, the Twaite Shad, is being returned to its historical site of the River Severn where it once bred. It is a member of the sea faring herring family which migrates upstream in spring to the Anglo – Welsh border where they breed. The Twaite Shad is the only member of the herring family that lives in freshwater, even though it also spends many years in saltwater, where they live on plankton and other animal life, including small fish.
Three issues combined to severely reduce its British numbers. The first was when weirs, dams, sluice gates and later pumping stations, were built from the onset of the Industrial Revolution and throughout the 1800s and, these obstructions combined to prevent the Twaite Shad's historical migration routes. Secondly, the species was also overhunted and overfished for many years. Thirdly, because the Shads need clean water, pollution also had a dramatic and negative influence on their colonies. In recent years we've learned about these knock on effects, and can find solutions to the problems. After which it is only a question of combining time, effort and money into a formulated action plan. By building routes around the weirs, the fish can avoid the steep concrete walls which have been their unnatural and insurmountable problems.
FES supports this reintroduction Species Action Plan (SAP) because the Twaite Shad adds to the quality of the county's biodiversity. But, like other water fish and animals, this species cannot really be witnessed in its natural habitat by the non diving public. Even so the more committed active conservationists such as FES and Wildlife Zone members simply know the Twaite Shads are there again in the flowing waters, and in proper numbers.
Seahorses

The Seahorse
With all seahorse species, it is the male who gives birth to many live young. But within 24 hours of shedding their bulbous natal belly, they are able to become pregnant again. Universally all species of seahorses are loved, and treasured by different people, so it is no surprise that without protection, someone would disturb, hunt or collect them. Ultimately this could prevent future colony growth of these fantastic animals, in the same way that they have become limited in some parts of the world.
At the Studland Marine Park, a habitat action plan (HAP) is regrowing beds of Dorset Eel Grass; it is making a comeback from habitat destruction, caused by being uprooted by boats' anchors. Eel grass is used by seahorses to lock their bodies in the habitat by using their prehensile tails. Because both British seahorses are protected species, no-one is allowed to get within two metres of them, unless they have a licence to do so.
FES has visited the Torbay coast where they inspected a university research programme where students and scientists were breeding various seahorse species in many small and sparse aquarium tanks. Years ago volunteers 'swam with' seahorses in the Caribbean which was used to raise awareness of the plight and beauty of all the species; an event that was successfully carried out in a safe and respectful way.
The Eurasian Crane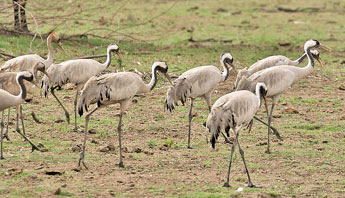 Cranes by J M Gary
The Eurasian (also called the Common) crane is one of Europe's tallest birds standing over three feet tall and with a wingspan of nearly seven feet. It is unmistakable, being coloured grey with long thin legs, a large body and long neck. About 400 years ago cranes were common in East Anglia, until it became a scarce visitor because mankind had continually drained their wetland nesting sites and hunting territories.
In the 1970s a small breeding population established itself in the Norfolk Broads which gave the chance for conservationists to increase the colony. Since those years the colony has grown, and they have even nested in Suffolk.
Meanwhile the Great Crane project for Somerset Moors and Levels has mixed habitats of wetlands as well as meadows and pastureland. In all, about a hundred birds (mainly eggs or chicks gathered from Germany) were released in 2015 which created a MVP that is hoped to create a successful and permanent colony.
There are now just over 50 breeding pairs. We can help them with some of their food as they eat vegetation including fruit, seeds, stems, leaves and roots. They also prey on small animals including dragonflies, snails, spiders, other insects, small birds and rodents.
FES is monitoring the development of both colonies and are prepared to act accordingly wherever necessary;
they will also continue to report on their progress in the media.
Beavers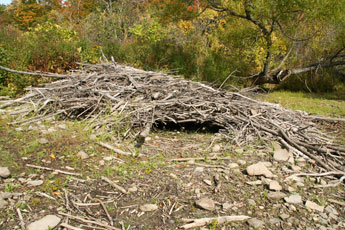 Beaver Lodge
For many years FES has been active in projects to bring back the beaver to the British countryside, and has been part of a movement of conservationists who have been getting some great results. This continued with the FES 2021 expedition to Wales which included the Welsh Beaver Project, which is part of the Living Landscapes Strategy, run by a collection of conservation organisations. This initiative follows the beaver being brought back to Knapdale, Fyfe in Scotland and the River Otter in Devon, England.
But it's not all easygoing because beavers have human enemies that include influential landowners, and some members of the National Farmers' Union, despite their disproportionally small numbers. Whilst opponents say the beavers are bad for business, as in many other cases of successfully reintroduced species, such animals increase tourism and local economies.
Meanwhile local conservationists told us that as far as they were concerned such Welsh projects need more help, direction and leadership to push the cause forward with more vigour. This is despite the fact that beavers have already been successfully reintroduced into 26 European countries, which provides an excellent template for similar plans.
By spending a couple of days at the Dyfi Nature Reserve near Machynlleth, we visited the beaver waterways, as well as some stunning birdlife that live in the surrounding habitats. We stopped off at the ponds that are frequented by beavers and witnessed one of the Wildlife Trust conservationists at work. In her wellington's, she waded through the mud patch, covered in brown stale water, to climb though the barred gate where she set more camera traps; probably the easiest way to track the numbers and movements of the local colony.
These programmes gain their support and strength from the 'bottom up' in society, rather than the 'top down' from the political establishment. It is where FES and other conservationist groups are most effective. Even so, the three British sites only make separate islands of colonies. But with greater rewilding projects they will gradually link up in years to come, and o increase their natural genetic pool.
OTHER BOOKS IN PROCESS
Andy is currently editing Dr George Chowrimootoo's book, The Importance of Plants, which will be published by the Wildlife Zone in the near future. In this book Dr Chowrimootoo discusses some plants and how they are both effective and efficient when applied to human ailments. Whilst chemical medicines are universally effective, he argues that natural plants can be as much, if not a better way of getting our health and balance back.
After the success of Victorian Tottenham Hotspur, Andy is currently writing Zululand; a Philatelic and Postal History. It is a book about viewing the history of the ancient kingdom, now a region of South Africa, from a completely new perspective. Philatelists in the UK, South Africa and elsewhere will love this ground breaking book based on the wide ranging examples in his own substantial collection. Furthermore the Principles of Local History are also used to gain an all round picture of the nation as well as all of its post office districts, each one producing interesting pictures.
HONOURS AND AWARDS
The Wildlife Zone is a supportive charity for the Foundation for Endangered Species, and has a wider remit that deals with underlying environmental issues. It also gave its name to the radio programme, the Andy Mydellton Wildlife Zone, written and presented by Andy for nearly 10 years. During that time he won the Martin Fallon Award for best and original programme.
Andy was shortlisted for the Hillingdon Writer of the Year Award in 2015, writing about the animals that visited the FES wildlife garden: and in 2016 he won a poetry competition, writing from his experiences in Ruislip Woods.
ORGANISATIONS
Bronte Books (BB) is a small publishing house whose purpose is to create funds for the Foundation for Endangered Species. It publishes all sorts of subjects as fundraising exercises; whereas its two imprints FES Publications and the Wildlife Zone each have their own environmental agendas.
As an author, Andy is published by TSL Publications and has two more books being written, ostensibly for the British and South African markets.
Since FES became a registered charity, they endorsed and joined the Earth Charter International, being delegates to the ECI+5 meeting at Amsterdam. The Charter facilitates sections of the United Nations Education, Scientific and Cultural Organisation (UNESCO) and the International Union of Conservation Network (IUCN) policies. Just after this FES joined UNESCO, and became an integral part of the Associated Schools Project Network (ASPnet). Andy later became chairman of the group and is currently serving as an expert on the UNESCO UK Group. Moreover The Intergovernmental Oceanographic Commission (IOC) is an important UN Group that investigates the state of the world's oceans, which are and will remain under real threat for years to come, especially from pollution and the effects of Global Warming. Andy serves as an 'Ocean Expert' on this Commission, and has done so for many years.
FES has also figured in the Houses of Parliament committee rooms as members of the All Party Parliamentary Climate Change Group (APPCCG). Andy has been the charity's representative, as he was with the European Parliament in Brussels talking on the same subjects.
Payment Details
To pay for your items or donations, please print out and complete the following forms. There is an option to pay for some things monthly, quarterly or annually; if so, please tick the appropriate box.
Otherwise print off the form with a note together with a cheque to the registered office. The Gift Aid form can be used for the Foundation for Endangered Species to reclaim the tax that you have paid to the Inland Revenue.

Click on the logo and use smile.amazon to purchase goods from Amazon and they will donate to your favourite charity at no cost to you.